Chichester Cathedral's 'celebrity' falcons lay four eggs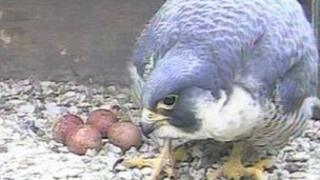 "Celebrity" birds of prey nesting on Chichester Cathedral are thought to have laid four eggs in their 12th year on the site, the RSPB has said.
The charity said the peregrine falcons' nest had become one of the most successful monitored nests in the UK.
Twelve years of breeding on the site was an impressive record, it added.
The nest installed by theSussex Ornithological Societyhas a regular following and the birds have their ownFacebookpage with hundreds of fans.
'Protected site'
Project officer Molly Dailide said: "It's fantastic that peregrines are once again nesting on Chichester Cathedral."
She added: "It's great that we have a full clutch of eggs again, and the female seems to be a very experienced mother, so fingers crossed that they will all hatch and fledge again successfully."
She said it was thought the birds benefited from the protection the site offered and a little human help with creating good nesting conditions.
The birds have raised 38 chicks at the cathedral site since 2002.
From 13 April, the RSPB will be based at the cathedral for its Date with Nature Project, offering people a chance to watch the birds at close range.
Visitors will be able to view live footage of the nestbox and also use binoculars and telescopes to watch the birds flying and perching on the pinnacles and turrets of the cathedral.
Live footageis already being streamed on the internet.