Sussex Police Federation: Officers' morale 'never so low'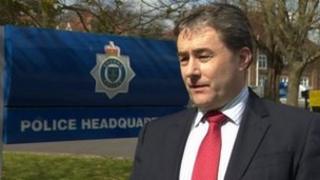 In the whole of Mark White's 25-year career as a police officer in Sussex, he has never seen staff morale plummet so low.
The 46-year-old served as a constable on the frontline for 16 years before becoming the county's police federation secretary.
He said police were expected to do some "pretty horrible" work, carried out a job that had an impact on individuals and their private lives and routinely performed "brave and dangerous" tasks.
And while in the past officers would always try to make the best out of a bad job, recommendations made in a national review of policing were eating away at morale and goodwill was running out, Mr White added.
He said he had never seen anything like it.
Last week, the Sussex Police Federation sent a letter to MPs across the county which said members were writing to the politicians "in despair" after the policing review by former rail regulator Tom Winsor.
When the Winsor review was launched, Home Secretary Theresa May said nothing would be "off limits", that she wanted to see "modern management practices", and the review would be the most comprehensive in 30 years.
Fear of injury
Chief Constable of Sussex Police Martin Richards said: "The reality is that policing is changing and must continue to."
But the federation's letter said it opposed the review's recommendations which included making officers subject to redundancy but denying them industrial rights, cuts to the starting salary, changes to the retirement age, fitness tests for officers and stoppages to leave.
The letter said one proposed change causing great concern was the threat of pay cuts or dismissal if an officer suffered an injury and became restricted in their role.
Mr White said: "We have done dangerous things. We have done brave things. But now we certainly would think twice about entering a burning building."
He said members were aware public sector workers across the country were facing pay freezes, which was not an issue for the police.
Staff 'biggest asset'
But he said: "What we find very difficult to understand is why we are the only public sector workers who are having their complete terms and conditions just ripped to pieces when policing is only 1% of the public sector budget."
Next month, the Sussex federation expects to send the largest contingent it has ever seen to a protest in London.
Its 3,200 members had shown "unprecedented interest" in the march, Mr White said.
In a statement, Mr Richards responded to the federation and said: "There is an underlying and ongoing need to modernise to ensure we provide a service that best meets the needs of local people and is fit for the future.
"Our people are our most valuable asset. This unprecedented period of change is understandably causing them some uncertainty and concern.
"I would reassure them that any decisions we take will be for the long-term benefit of our service to the public."
He said an implementation team had been set up to consider the Winsor recommendations and no changes would be made until consultation had been held and details had been made clear.