Weather mast to help Rampion offshore wind farm plans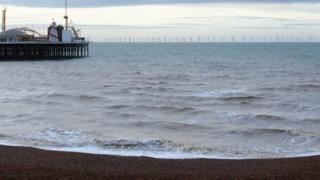 Work has started on a 110m (360ft) high meteorological mast to survey the proposed site of a wind farm off the East Sussex coast.
The mast is being installed by energy company E.ON, which wants to construct up to 195 turbines between 13km (8 miles) and 25km (15 miles) out to sea.
E.ON said the Rampion wind farm would create enough renewable electricity to power about 450,000 homes.
The mast will measure wind speeds, wave heights and sea currents.
Chris Tomlinson, E.ON's development manager for the project, said the installation should be finished by 16 April.
He said: "We're very excited to reach this milestone and get into the water to install the met mast."
Mr Tomlinson added that a temporary exclusion zone would be in place while the work is carried out and E.ON would be making sea users aware that works are under way.
A consultation on the plans is due to end on 6 May.