John Prescott in Brighton 'pasty tax' protest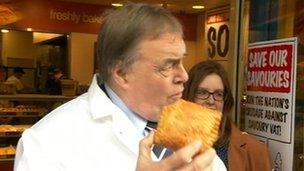 Former deputy prime minister John Prescott has been giving away pasties, pies and sausage rolls in Brighton in a protest over the new "pasty tax".
He was voicing opposition to the government's announcement in the budget that 20% VAT is to be added on to the price of hot savouries from October.
Lord Prescott said: "This is just another tax on hard-working people and a kick in the teeth to bakers."
He urged people to back their local bakers and sign petitions.
"There will be a consultation on the pasty tax so let's show Osborne and Cameron that we're not going to take it. We should be taxing bankers not bakers.
"We must axe the pasty tax," he said.
Ministers have said all food sold "above ambient temperature" should carry VAT.
VAT, currently at 20%, is not charged on most food and drink, but is payable on takeaway food sold to be eaten hot.
However, baked goods which are put on display warm and subsequently cool down are also currently zero-rated.
Lord Prescott was in Brighton to visit Brighton and Hove Albion's Amex Stadium for the first time since giving the go ahead for the project in 2005.
The BBC contacted the Treasury for a comment.
Related Internet Links
The BBC is not responsible for the content of external sites.