Steam tug boat used in Dunkirk evacuation receives lottery money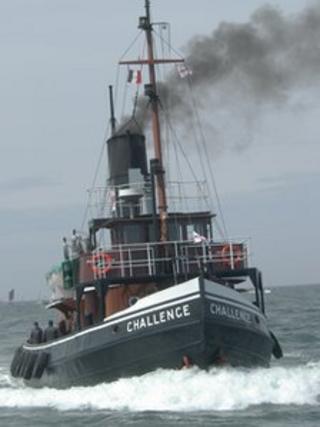 A steam tug that was used to evacuate stranded soldiers from the beaches of Dunkirk in WWII has been saved following a grant of £909,000.
The Heritage Lottery Fund (HLF) award will help keep the tug, called Challenge, afloat in a project that is expected to last a year.
It is hoped the tug will be restored in time for the 75th anniversary of the evacuation from the French town.
The boat is currently based in Shoreham harbour, Sussex.
Jerry Lewis, who chairs the Dunkirk Little Ships Restoration Trust (DLSRT), said a new boiler will be installed, the steam plant will be restored and the electronic navigation equipment will get an update.
"Without the invaluable assistance of the HLF it was likely that, despite the heroic efforts of our volunteers, Challenge would have continued to deteriorate to a point where further restoration would have been impossible," he said.
The trust has been awarded £909,000 by the HLF and the boat will be used as an educational tool when refurbished.