Investigation into Sussex 'raw' milk sold in Selfridges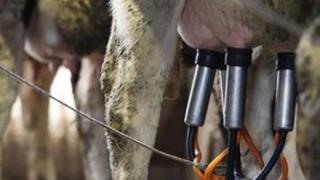 A Sussex farm is being investigated for selling unpasteurised milk in a major department store.
Last year, Longley Farm in Hailsham won a contract to sell the milk in Selfridges, in London.
But the Food Standards Agency (FSA) believes it could be a threat to people's health because there is no process to kill off harmful bacteria.
However, dairy farmer Steve Hook believes he is selling the milk legally.
Currently in England, Wales and Northern Ireland, unpasteurised cows' milk can only be sold direct to consumers from farms or the farmer.
This includes routes such as farmers' markets.
Mr Hook's milk is sold from a vending machine in the food hall, which he stocks and pays rent for. He and Selfridges claim this qualifies as a direct sale.
Despite this, the FSA said it is investigating.
Farmers' market
Mr Hook said: "We are selling our own milk - it's a direct sale to our customers.
"We sample our milk every week and we know exactly what the bacteria record is within our milk.
"We sell 5,000 pints a week and we've been selling raw milk for five years and we've never had any issues."
His views were echoed by Andrew Cavanna, a fresh food buyer for Selfridges, who said: "It's such a grey area as far as the vending machine is concerned that there isn't a piece of paper of legislation that says you're not allowed to sell it.
"Selfridges is essentially a farmers' market within a building."
A spokesman for the FSA said: "Both Selfridges and farmer have been informed that the FSA believes sales of raw cows' milk from retail premises are an offence under the food hygiene regulations. Enquiries are ongoing.
"There is an inherent food safety risk associated with drinking raw milk because germs normally killed by pasteurisation may be present. The sale of raw milk is therefore strictly controlled.
"Older people, infants and pregnant women are particularly vulnerable to food poisoning, so are advised not drink it."
Some health experts believe unpasteurised milk is more nutritional than pasteurised.