Zeppelin items sold at auction in Sussex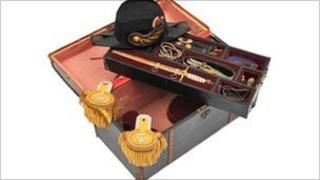 Hundreds of items of rare Zeppelin memorabilia fetched £211,000 at auction in East Sussex.
The collection, built up over a lifetime by Jersey enthusiast David Kirch, included everything from postcards to uniforms and crockery.
Some of the items, which went to bidders from all over the world, had never been auctioned before.
Two more auctions are to be held to complete the sale of Mr Kirch's collection, which weighed 15 tonnes.
Zeppelin airships were used by the Germans during WW1 as bombers and scouts over British soil.
Crashed in France
The British government later decided to develop airships in the UK, and in the 1920s they were used to link up the British Empire by air.
Britain's airship programme ended after one, the R101, crashed in France while on its way to India in 1930.
Three groups of medals from the R101 were sold by Wallis and Wallis in Lewes on Wednesday.
One, which included the Albert Medal awarded to Henry Leech, the senior engineer who survived and pulled people out of the wreckage, sold for £22,000.
Another lot including a Distinguished Flying Cross awarded to the captain, Herbert Irwin, who was a casualty, sold for £16,100.
Mr Kirch said the collection became to large to be kept at his home in Jersey.
He said he had hoped to open a museum at Cardington in Bedfordshire, where British airships were built.
"Unfortunately I have come to realise that these sort of enterprises are no longer viable at my time of life," he said.