Sussex fire crews monitor scene of Hastings gorse blaze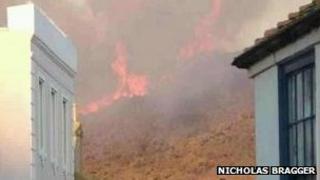 Fire crews are monitoring the scene of a large gorse fire which swept through the East Hill area of Hastings.
A two mile stretch of gorse and heather caught fire at about 17:00 GMT on Wednesday, leading to the evacuation of nearby properties as a precaution.
East Sussex Fire and Rescue said there were still some "small deep-seated" fires which could burn for a few days.
A spokesman said officers were checking them every two to three hours to ensure they remained under control.
At the height of the fire, large plumes of smoke could be seen drifting across Hastings.
The flames were put out at about 20:00 GMT.
There were no reports of any injuries, and the cause is under investigation.