George Osborne gives £56m for Bexhill-Hastings road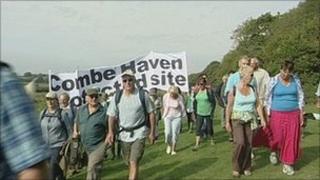 The government has earmarked £56m for the Bexhill-Hastings link road following the Chancellor's Budget.
The link will "facilitate economic regeneration in a deprived area of the South East", the government said.
The announcement of funding for the road has been greeted with dismay by environmental campaigners.
There has been opposition to the road, which would link the A259 and B2092, crossing Combe Haven Valley near a site of special scientific interest.
East Sussex County Council has welcomed the announcement.
Councillor Peter Jones, leader of the council, said: "The link road is absolutely crucial to the regeneration of Hastings and Bexhill and is a once in a generation opportunity to make a step change to the most deprived local economy in the South East.
"We believe the link road will facilitate construction of 1,200-2,000 new homes and business park space of 50,000 square metres, which will create at least 3,000 new jobs."
Speaking after the Budget, Danny Alexander, Chief Secretary to the Treasury, said: "Measures to drive growth and rebalance the economy will support the South East, with an extra £46m for the South East Local Enterprise Partnerships to unblock local projects and confirmation of £56m of support for the Bexhill to Hastings link road."
The Campaign for Better Transport said the link road "puts paid to the government's environmental credentials".
Sian Berry said: "Destroying the beautiful and historically valuable Combe Haven Valley to let 30,000 vehicles a day thunder through it is not the way to provide regeneration for Hastings."
Friends of the Earth said the road was "not needed and not wanted" and would not solve the area's economic problems.
Craig Bennett, from Friends of the Earth, said: "This will be one of the most damaging road schemes in the South East of England and will do nothing to end our transport chaos."