Newhaven beach 'village green' status change quashed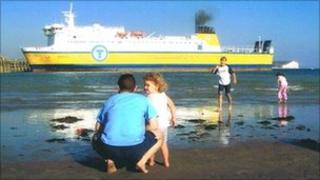 A privately-owned East Sussex beach cannot be listed as a village green to allow residents the right to use it, according to a High Court ruling.
Mr Justice Ouseley quashed East Sussex County Council's decision to reclassify Newhaven's West Beach following a planning inquiry in 2010.
Owner Newhaven Port and Properties shut it in 2008 following safety fears.
It also said the beach was covered by the sea for 42% of the time and there was no public right of access.
On Wednesday Mr Justice Ouseley said the words used by Parliament "to define 'town or village green' are broad enough to permit the registration of a tidal beach", provided certain tests were met.
'Devastating blow'
But he quashed the council's registration of the West Beach as a village green because it fell within the Newhaven port area and was "incompatible with the statutory purpose for which the land is held".
Newhaven town councillor Carla Butler said: "This is a devastating blow to the morale of people in Newhaven, who have used the beach in exactly the same way as a village green is used for generations.
"In all the years that the public have used the beach there has been no conflict between the operation of the port and the use of the beach."
A spokesman for East Sussex County Council said: "We are disappointed with the High Court decision and we will now be looking in detail at the ruling before we can make a decision on how to proceed."
Newhaven Port and Properties Ltd said it it welcomed the ruling and looked forward to working with the town council.
Photographic proof
A spokesman added: "Mr Justice Ouseley accepted that the village green application site, commonly referred to as the West Beach, is part of the operational land of the port.
"Recreational use by the public would be incompatible with the statutory functions of the port authority as set out in the Harbour Docks and Pier Clauses Act, and therefore the site cannot be registered as a village green."
The legal action followed a battle between local people and the owners over use of the area.
The county council agreed to register the sandy beach as a village green following a planning inquiry in July 2010.
Newhaven Town Council had pressed for the beach to be reclassified as part of a campaign to get the sands reopened for public use.
People produced photographic proof of people fishing, walking, riding their bikes and playing cricket on the sands when the tide allowed.