Fourth man sought over Gorringes antique cup theft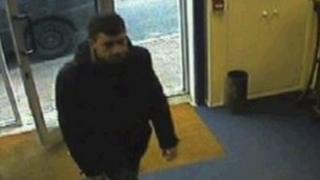 A fourth person thought to have been involved in the theft of a wooden antique cup from an auction house in East Sussex is being sought by police.
A CCTV image has been released of the man entering Gorringes in North Street, Lewes, on Friday morning.
Officers were called to the auction house at about 10:50 GMT after a youth vaulted a counter and stole the cup.
Two 17-year-old boys from London and a 32-year-old man from Kent were arrested at the scene and charged with robbery.
The man being sought is described as white, with dark short hair. He was wearing a dark jacket, blue jeans and black trainers.