Jerwood Gallery opening in Hastings attracts 2,000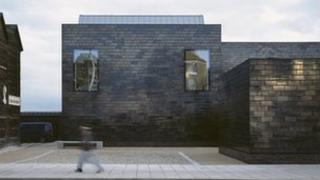 More than 2,000 people visited a seafront art gallery in Hastings during its opening weekend.
The £4m Jerwood Gallery, which opened on Saturday, was built to showcase the collection of the Jerwood Foundation.
The project is part of a £9m redevelopment of the Stade, a historic area in Hastings' Old Town.
Jeremy Birch, the leader of Hastings Borough Council, said: "For the gallery to get over 2000 visitors in its first weekend is just tremendous."
He added: "There was a real buzz about the town too, and I have no doubt at all that local businesses will soon start to see the benefits of the gallery."
Liz Gilmore, the gallery's director, said she was thrilled by the public's response.