London 2012: Stuntman Eddie Kidd to carry Olympic torch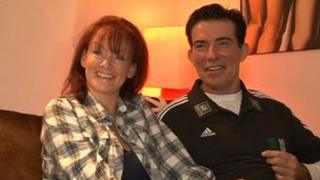 "Anything is possible" is the motto of former daredevil stuntman Eddie Kidd, who last year completed the London Marathon and this summer will be one of the Olympic torchbearers.
Mr Kidd, who lives in Peacehaven, East Sussex, suffered serious brain injuries following a crash at a motorcycle rally in 1996, leaving him with severely restricted co-ordination and speech.
Over the past eight years he has fought to regain some of the mobility he lost and following his achievement last year, in which he raised almost £100,000 for charity, he has been nominated and chosen to carry the Olympic flame on its leg through his home county.
Speaking through his wife Sami, he said: "I'm very proud to carry the torch. It's the biggest thing I've done since jumping the Great Wall of China."
World champion
Mr Kidd first stunned spectators in December 1979, when he jumped 80ft (24m) across a derelict railway bridge in Essex on a 400cc Yamaha.
His achievements culminated in 1993 when he jumped the Great Wall of China and beat Robbie Knievel, son of Evel Knievel, to the stunt bike world championship.
But although his life drastically changed following the crash in Warwickshire three years later, Mr Kidd has refused to let his disability get him down.
He took 50 days to complete the London Marathon last year, walking up to a mile a day with a specially adapted frame.
It was an achievement that his wife described at the time as his "greatest feat", which challenged him both physically and mentally.
Eight thousand people have been chosen to carry the Olympic torch on its 8,000-mile journey around the UK, with Mr Kidd taking part in the event on 17 July.
On that day torchbearers will carry the flame from Brighton and Hove to Hastings via Crawley, Lewes and Eastbourne.
Mrs Kidd said they were yet to be told of the exact location.
"I'm really proud of him because he's made British history so many times, and he's going to be doing it again," she said.
Mr Kidd added: "I'm doing it to show other people that anything is possible.
"I will love it. I'm a big show-off... it will be wicked."