Jerwood Gallery in Hastings opens its doors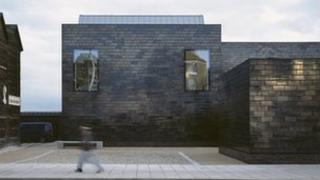 An important collection of British paintings has gone on show to the public for the first time with the opening of a gallery in Hastings.
The £4m Jerwood Gallery has been built to showcase the collection of the Jerwood Foundation.
The arts trust said many of the 20th and 21st Century paintings had not previously been seen by the public.
The project is part of a £9m redevelopment of the Stade, a historic area in Hastings' Old Town.
Gallery director Liz Gilmore said the collection was "live and growing and a source of inspiration for artists today".
'Perfect location'
The building is clad in more than 8,000 black ceramic tiles, which reflect the changing seaside light.
It features works by artists including Sir Stanley Spencer, Lawrence Stephen Lowry and Augustus John.
Alongside the permanent collection, the gallery is showing an exhibition of works of Kent-based artist Rose Wylie.
Alan Grieve, who chairs the Jerwood Foundation, said: "This is the culmination of the initiative to make a new home for Jerwood's collection and place it in the public domain for the first time.
"With its rich history and strong, ever-expanding artistic community we felt that Hastings was the perfect location."
The run-up to the opening has been marked by controversy.
Some residents had argued the gallery would have had more of an impact placed in a more deprived part of Hastings.