Sussex abuse probe priest remained school governor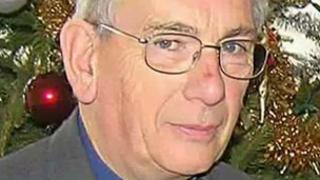 A retired Anglican priest remained a school governor for more than a year after claims of child sex abuse against him came to light, the BBC has found.
Canon Gordon Rideout, 73, was held last Tuesday on suspicion of child sex abuse between 1965 and 1972 and later bailed.
The BBC has found he remained as a school governor in Eastbourne after the church suspended him following a Criminal Records Bureau check.
The school and education authority would not comment during the inquiry.
But head teacher of Bishop Bell school, Terry Boatwright, said he wanted to reassure parents the allegations were historical and not connected with the school.
'Historical claims'
BBC Home Affairs correspondent Colin Campbell said Mr Rideout was suspended from working in churches in September 2010 after a Criminal Records Bureau (CRB) check revealed Mr Rideout had been arrested in 2001 on suspicion of abuse in the 1960s and 1970s.
He said East Sussex County Council and the school were also notified about the CRB check, but Mr Rideout continued as chairman of governors at the school until November 2011.
Lucy Duckworth, from the National Association of People Abused in Childhood, said: "This is something we're seriously and deeply concerned about that Canon Gordon Rideout remained in position as chair of governors for 14 months."
She added: "It is such a serious safeguarding flaw and we're demanding answers."
A spokesman for East Sussex County Council said: "There is criminal investigation under way, a man has been arrested and the matter is in the hands of the police, so it is not appropriate for us to make any further comment at this stage."
Mr Boatwright said: "I understand a man has been arrested by police investigating historic allegations of sexual abuse against young people. I can confirm this man had connections with the school but was not a member of staff.
"Clearly, given that there is an ongoing investigation, I cannot, at this stage, give any detailed information. However, I would like to give parents my complete reassurance that all the allegations are of an historical nature and are not in any way connected with this school."