Grounded Gatwick luggage finds owners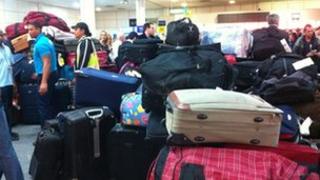 Most passengers who took off from Gatwick Airport without their luggage at the weekend have been reunited with their bags, airport chiefs have said.
About 2,500 bags were left at the West Sussex airport's North terminal after a power cut at 03:30 GMT on Saturday.
A statement from the airport said: "The vast majority of bags have now been reconciled with their owners."
Gatwick bosses were unable to say how many passengers were still without their bags.
Electricity was restored soon after the power failure, but eight baggage belts remained out of action for seven hours.
The airport said airlines with spare capacity had been taking luggage.
"Unfortunately there are still a number of bags yet to reach passengers due to the lack of frequency of flights to certain destinations," an airport statement said.
"They will be sent on the next available flights."