Newt discovery Rye roadwork delay 'damaging' businesses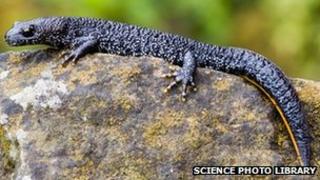 Business owners in East Sussex claim they are losing money because the discovery of great crested newts has delayed roadworks.
The A259 outside Rye has been closed for resurfacing works for two weeks, but no work has been done because the protected species has been found.
The Highways Agency said the road will be shut for another two weeks.
Sue Ashenden, from nearby business Salts Farm Shop, said the store's trade was down 30% from last year.
She said: "It just seems preposterous they have had to hold up all the work, that has got to be done because it's life or death with regard to the road crumbling away.
"It has had a massive knock-on effect, not just for our business which is 30% down from last year... but also for our suppliers and other people in the area."
A spokeswoman for the Highways Agency said they were working closely with Natural England to resolve the situation.
"We understand and share local people's frustration by this delay, but great crested newts are protected by law, and we take our environmental responsibilities seriously and have to comply," she said.