Gatwick flies grounded bags to owners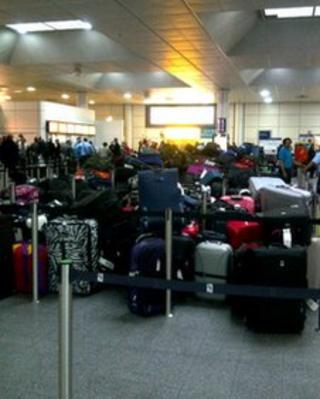 Passengers forced to take off from Gatwick airport without their luggage because of a power cut will have it by Monday at the latest, it is claimed.
About 2,500 bags remained behind at the West Sussex airport's North terminal after the power cut at about 03:30 GMT on Saturday.
Electricity was restored quickly but eight baggage belts were out of action until 10:30 GMT.
Gatwick said it was working round the clock to unite passengers with bags.
Best-selling crime thriller novelist Peter James was among those forced to leave without their luggage when he flew out to the French Alps with British Airways.
He Tweeted: "Sunday morning in the French Alps and still no bags."
The airport said airlines were working together to clear the backlog of luggage left behind, with two Thomson flights taking easyJet passengers' bags to their destinations.
"We have been working round the clock with our airlines and their handling agents to ensure bags were put on flights yesterday or this morning to reach their owners by tonight, or tomorrow at the very latest," the airport said in a statement on Sunday.
"For passengers waiting for their bags, we would advise they contact their airline direct for an update."