War veteran Ernest Payne, 97, receives medals for WWII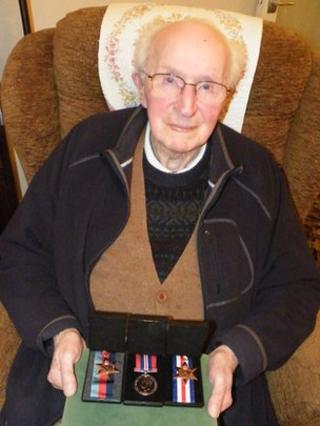 A 97-year-old war veteran from Sussex has been decorated by the Ministry of Defence (MoD) 68 years after he saw action on D-Day.
Ernest Payne, from Brighton, has received three medals after relatives applied on his behalf to the MoD.
Mr Payne, a tank driver in B Squadron the 24th Lancers, took part in the D-Day landings in June 1944.
He has received a War Medal 1939-45, a 1939-45 Star and a France and Germany Star.
'Terrific convoy'
Born in 1914 in Henfield, East Sussex, Mr Payne was called up on 18 December 1940.
Recalling D-Day, he said: "On the way over there was a terrific convoy, ships everywhere.
"The American crew on the ship, very cheerful lot, they said 'oh we're just going to go through the minefields'.
"Thankfully we went straight through with no trouble."
Mr Payne said his first job when they reached the northern French coast was to escort a tank that had been in action that day back to safety.
Early in 1945 Mr Payne was released from the army to take over the running of his family's grocery shop in Brighton.
He said: "I had to come back and fathom out all the details of rationing."
The Ministry of Defence said World War II personnel had to submit an application to receive medals for their service.
Mr Payne said: "I knew possibly I should have been due [medals] but I'd never got round to getting them.
"Getting along as I am I began to wonder if ever I should, so thankfully I have."
Mr Payne's family believe he did not receive the medals when the war ended because of his early exit from the army.