Hastings Pier owners miss council's repair deadline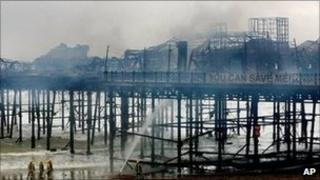 The owner of Hastings Pier has failed to respond to a two-month deadline to start repair work on the structure or risk having it taken from its control.
Hastings Borough Council, which warned Ravenclaw it would seek to compulsory purchase the pier, said it would give the company "just a while longer."
The Victorian pier was almost destroyed in an arson attack in October 2010.
Since the fire, the Panamanian-based Ravenclaw has failed to respond to approaches by the council.
A repairs notice was served at the end of November, giving the company two months to respond.
'Jumping the gun'
A council spokeswoman said: "The two months is up and, not surprisingly, we've heard nothing from Ravenclaw in respect of the repairs notice we issued.
"We have always tried to be reasonable.
"Given that we've had Christmas and the New Year, and the time it takes for post to reach Panama, we will give them just a while longer, so that we cannot be accused by them of jumping the gun."
If an order was granted, the pier would be handed over to the Hastings Pier and White Rock Trust (HPWRT), which aims to refurbish the pier with modern attractions.
Up to 95% of the pier, which had been closed since 2006, was damaged in the arson attack.
Two men, then aged 18 and 19, were arrested shortly afterwards but the Crown Prosecution Service (CPS) announced in April that there was not enough evidence to bring charges.