West Sussex adult care cuts impact explored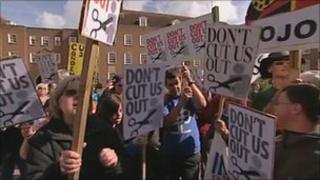 The impact of controversial cuts to adult social care in West Sussex is to be examined at a conference later.
Disability charity Mencap said it wanted to hear the first-hand accounts of people affected by the changes.
Social care has been withdrawn for adults with moderate needs to focus on those perceived to have greater needs.
West Sussex County Council said changing the eligibility criteria was necessary because of a "very poor" government funding settlement.
'Considerable support'
The conference is being held at Worthing Rugby Club and is jointly hosted by Mencap and the Don't Cut Us Out campaign.
Barry Pickthall, a campaign spokesman, said: "Individually, the vulnerable can do very little, but as a group we have a strong voice and considerable support from the public."
In a statement, the Conservative-run council said it had invested £750,000 in services to minimise the impact of the changes.
A spokesman said: "These measures have safeguarded our services in a far better and more cost effective way than by continuing to fund moderate needs."
Of its proposed £79m savings over the next three years, £31m is intended to come from adult social services, which represents about 17% of the budget.
Campaigners have said the change affects 4,500 people in the county.