Ford Open Prison riot: Men jailed over £5m damage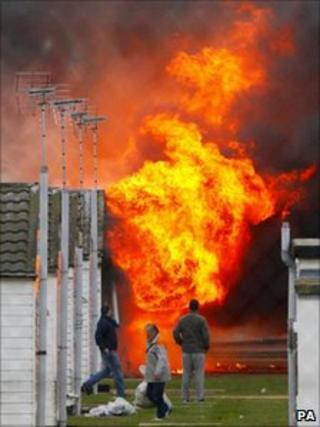 Four men have been jailed for their part in a riot at Ford Open Prison which caused £5m damage.
Masked inmates smashed and torched buildings after the authorities lost control of the jail for more than 12 hours on 1 January 2011.
A jury at Hove Crown Court was told that during the riot at the jail near Arundel, West Sussex, several buildings were burnt to the ground.
A fifth man will be sentenced within 28 days following mental health reports.
The five were among seven men who denied a charge of prison mutiny.
They were Lee Roberts, 41, Thomas Regan, 23, Ryan Martin, 25, Lennie Franklin, 23, Roche Allen, 25, Carniel Francis, 25, and Paul Hadcroft, 25.
Staff overpowered
Tensions rose in the run-up to the outbreak of violence, sparked by the prison's policy on breath-testing of inmates, the five-week trial heard.
The trouble resulted in the five staff on duty at the time being overpowered by prisoners and retreating to the gate house, leaving the prisoners unsupervised.
The jury found Regan, Franklin and Allen guilty of prison mutiny. Roberts and Francis were found not guilty.
Roberts, Franklin, Allen and Francis were all found guilty of violent disorder, a charge that Regan had already pleaded guilty to.
Roberts was also found guilty of arson, being reckless as to whether life was endangered.
Regan, Franklin and Allen were cleared of the offence. Each of the three was jailed for seven years.
Francis was jailed for two-and-a-half years after being found guilty of violent disorder. Roberts is to be sentenced at a later date.
Riot police
Martin was acquitted of all three offences of prison mutiny, violent disorder and arson, being reckless as to whether life was endangered.
Mr Hadcroft was found not guilty of all three charges part-way through the case.
During the violence, riot police and specialist prison officers had to be drafted in to help bring peace to the jail before authorities eventually regained control.
Judge Michael Lawson told the defendants their behaviour as they advanced towards the five staff on duty, threatening to kill them, must have been terrifying.
"Had they run they would have suffered injury from the crowd who were already aroused, angry and out of control," he said.
Det Chief Insp Pierre Serra, of Sussex Police, said: "A number of prisoners, including our main suspects, had to be moved to prisons all over the UK.
"Our most significant witnesses were serving prisoners, who have shown immense courage by coming forward and attending court.
"The incident had a huge impact on the local community."
The independent monitoring board (IMB) for Ford Prison said an extra member of staff had been drafted in for night shifts at the prison since the riot.
"We had mentioned several times, and in a report in December, that if anything went wrong there were not enough people to control it," said chairman Charles Pinney.
"They have tightened their security in the prison as a whole.
"They have also gone to an awful lot of trouble to improve relationships between the staff and the prisoners."
But the Prison Officers Association (POA) said putting on one extra member of staff at night would not be enough to stop something similar from happening again.