Worthing beach mercury spillage removed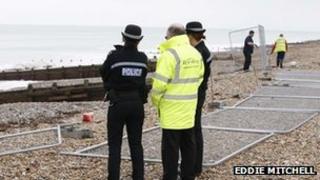 Mercury found on a shingle beach in West Sussex has been removed.
The substance was found on Friday by a member of the public, who was out on the shoreline with a metal detector.
Derek Magee, from Worthing Borough Council, said specialist contractors took 12 bags of shingle away on Monday and all the mercury had gone.
He said it was thought either someone had dropped a small container of the substance, or it had been on the beach for some time.
"We will keep an eye on things," he said.
"Either somebody has dropped a jar there and hoped it was washed out to sea, which it wasn't - or it's just been on the beach for a long time and been uncovered with tidal action."
Further checks
Mr Magee, a senior engineer at the local authority, said contractors took away 12 bags of shingle but the actual quantity of mercury found was about "a jam-jar full".
He said mercury was known disperse over a large area, and the spillage had affected 12.5 square metres (134 sq ft) of the beach.
Further checks would be carried out regularly to make sure the contractors had not missed anything, he added.
The area of the beach affected had been fenced off all weekend, before it was re-opened earlier.
Emergency teams were called to the site on Saturday for safety reasons, while local authority staff carried out initial investigations and cordoned-off the site.