Competition to save Beachy Head lighthouse stripes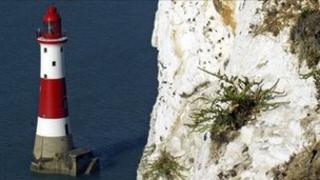 Campaigners have launched a competition in their bid to maintain the traditional red and white stripes of Beachy Head lighthouse in Sussex.
The fundraising competition marks the 110th anniversary of completion of the lighthouse tower, on 25 February 1902.
Owners Trinity House, said the stripes were no longer required as ships now used satellites.
However, if Save the Stripes campaign can cover the £45,000 cost of a repaint, the work can go ahead.
In September 2011, Trinity House said it was allowing the lighthouse to return to natural granite because the cost of painting it red and white could no longer be justified.
'Win tickets'
Traditionally the lighthouse, at the foot of Beachy Head cliffs near Eastbourne, has been repainted every 10 years.
Rob Wassell, of the campaign, said £24,304 had to be raised to cover the cost of the repaint.
He said the paint required for the work, which costs about £20,000, had been donated by a paint company.
"The Beachy Head Lighthouse, with its iconic red and white stripes, has become as much part of Beachy Head as the white cliffs themselves," Mr Wassell said.
"I am running a competition to win a pair of tickets to see the Beachy Head lighthouse up close, on a boat trip to Beachy Head and the Seven Sisters."