190 Brighton American Express jobs could move overseas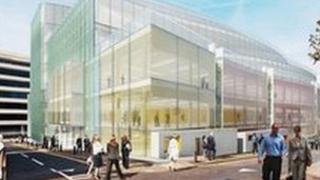 Up to 190 jobs at American Express's European headquarters in Brighton could be moved overseas under plans being considered by the firm.
The credit card company said it was consulting staff over plans to redeploy the "non-customer facing" roles to India or Argentina.
A spokesman said the firm remained "fully committed" to the city.
American Express is Brighton's largest private sector employer with about 2,900 staff.
Any decision about the jobs is expected to take place in June following a three-month consultation, according to American Express.
'No decision made'
In a statement, the firm said: "American Express is currently consulting with employees on a proposal to migrate certain non-customer facing activities presently undertaken by particular teams within the company's operations centre in Brighton.
"As a global company, we are always seeking ways to make our business more flexible and efficient to help better serve our customers.
"This approach sometimes involves moving some functions from one operations centre to another.
"No final decisions have been made in relation to the proposal which could potentially impact approximately 190 permanent roles."
It continued: "Brighton continues to be an important part of our global network and we remain committed to the city. Indeed, we are currently building a new European operations centre in the city and we recently completed the transfer of more than 150 jobs from Madrid to Brighton.
"Over the coming weeks we will continue to provide ongoing support and counsel to those employees who are impacted by this proposal".