Funds raised to restore Titanic cellist's Eastbourne plaque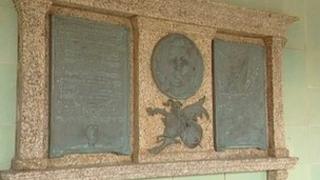 A plaque commemorating an Eastbourne musician who died on board the Titanic is to be restored after a campaign successfully raised the money required.
John Wesley Woodward was a cellist in the orchestra and part of the group of musicians who played as the ship sank.
Following a campaign by local man Peter Goldsmith, £1,830 was raised to repair the memorial at Eastbourne Bandstand.
The plaque will be unveiled on 15 April - 100 years to the day that the Titanic went down with the loss of 1,500 lives.
Mr Goldsmith said he was delighted to have raised the money in the space of just five months, adding that he had received backing from the people of Eastbourne.
"A lot of people stopped me in the street and gave me a tenner or a pound, a couple of local hotels - the Langham Hotel and the Afton Hotel - and the Titanic Society in America, they have really supported me," he said.
'Sacrifice and devotion'
The plaque in Mr Woodward's honour has been displayed at the Eastbourne Bandstand on the seafront for nearly a century.
It shows a sculpture of his face plus words stating his self-sacrifice and devotion on the night the Titanic sank.
Mr Woodward, who was born on 11 September 1879 in West Bromwich, in the West Midlands, played at Eastbourne's Winter Gardens and Grand Hotel with the Duke of Devonshire Band before joining the voyage company White Star Line in 1909.
A concert will be held at the bandstand to mark the public unveiling of the memorial where music from 100 years ago will be played.