Sussex wind farm consultation begins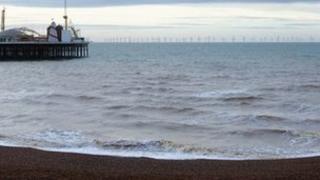 The first of a series of meetings has been held over plans to build a wind farm off the East Sussex coast.
Energy company E.ON wants to construct up to 195 turbines between 13km (8-miles) and 25km (15-miles) out to sea.
The firm has been answering questions about the proposed Rampion wind farm at a pubic meeting at the Unitarian Church in New Road, Brighton, on Saturday.
E.On said the Rampion wind farm would create enough renewable electricity to power about 450,000 homes.
The firm won the licence, which is one of nine sites around the UK earmarked for offshore wind farms, in January 2010.
The consultation period runs until 6 May. Dates and locations for the public meetings can be found on the E.ON website.