Brighton and Hove Albion back campaign to tackle homophobia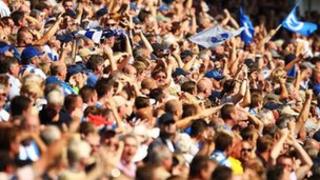 Brighton and Hove Albion have signed up to a national campaign against homophobia in sport.
The club's fans have been subjected to homophobic chants due to the city's connection with the gay community.
Homophobic and racist chants are outlawed by ground regulations, but now the club has signed the government's Sports Charter.
In December a Barnsley fan was cautioned for shouting homophobic abuse at Brighton fans.
The Sports Charter, which was signed by all of the Premier League clubs on 2 February, is a voluntary Home Office initiative, which commits the club to challenging "unacceptable behaviour".
Brighton and Hove Albion said it was the first club in the South East to sign the pledge.
Chris Basiurski, chairman of the Gay Football Supporters' Network, said the charter was a start for clubs to show a commitment in tackling homophobia.
'Not pleasant'
"But on top of that they need to put some policies in place to make sure it isn't just a meaningless piece of paper," he said.
"Abuse is not pleasant. Many of our members go to games and they're pretty thick-skinned and they've heard it all before.
"It isn't nice to hear, but the thing we're most worried about is the people who are not necessarily as comfortable with their sexuality.
"Maybe they're young and they're coming to terms with it and they hear their own supporters and maybe friends and family using this kind of abuse."
Paul Camillin, from the club, said it had always been committed to rooting out homophobia and dealing with it.
He said: "The important thing is that supporters work with us, so if they are subjected to any kind of abuse they should report it to us and the police."