Ford Open Prison riot trial: Prisoner 'had red mist'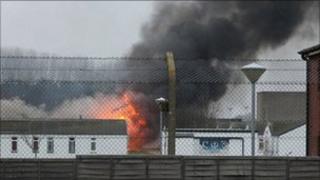 An inmate "saw red" and set fire to a building during a prison riot after being refused parole, Hove Crown Court has heard.
Lee Roberts, 41, said he was upset at not seeing his family over Christmas when a riot began at Ford Open Prison in Sussex.
Roberts has admitted arson, but this is not accepted by the prosecution.
He is one of six defendants who deny a charge of prison mutiny at the jail on 1 January 2011.
The other five are Thomas Regan, 23, Ryan Martin, 25, Lennie Franklin, 23, Roche Allen, 25, and Carniel Francis, 25.
'Smashed windows'
Jurors were told that after midnight Mr Roberts pulled large plant pots over before smashing panes of glass with a fire extinguisher.
Mr Roberts said he set fire to paper blinds in the post room but had not been involved in other rioting.
He said: "I do not know what was going through my mind.
"When I lose my temper it's like there are no consequences. I call it red mist."
The court heard Mr Roberts was jailed for life and ordered to serve at least six years in 1997 for killing someone in a pub fight.
His murder charge was reduced to manslaughter on grounds of diminished responsibility because of mental health problems, jurors were told.
Mr Roberts went to Ford in 2004 and was released in 2005, but was recalled for intimidating a prison officer and taking drugs, the court heard.
Jurors heard Mr Roberts was moved to nine prisons between 2005 and 2010.
Mr Roberts said he was angry about returning to Ford in 2010 because amphetamine-based drugs were not allowed in an open prison and he had to stop taking medication for ADHD.
He said: "I was told I could not go to any open prison on that medication. I had the choice of staying on it and staying in closed conditions but to get to an open jail I took myself off of it so I could go forward."
'I am a loner'
Defending Mr Roberts, Louisa Bagley asked him if he knew any of his co-defendants before the riot, but he said no and added that he acted alone.
He said: "To be honest I am a loner, I do my own thing. I have a select group of friends who are other lifers who are older than me."
Mr Roberts said he did not believe he had put anyone's life in danger when setting fire to the blinds because the fire was heading towards open fields.
The court heard Mr Roberts denied being involved in the riot when questioned by police.
He said he was only responsible for starting the fire in the post room and only found out more than one fire had been started during the trial.
Five of the men have also pleaded not guilty to a charge of violent disorder, except Mr Regan, who has pleaded guilty to the charge.
Mr Roberts, Mr Regan, Mr Martin, Mr Franklin and Mr Allen have all denied a further charge of arson, being reckless as to whether life was endangered.
The trial continues.