Stalker Al Amin Dhalla turned to guns and arson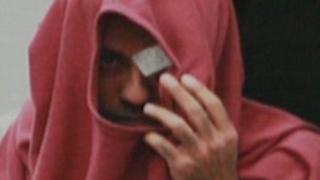 When Al Amin Dhalla's fiancee unravelled his web of lies about his past he turned to guns, violence and arson.
The Canadian refused to accept the breakdown of his relationship with trainee doctor Alison Hewitt, 35, and he launched a campaign of harassment against her and her family.
Lewes Crown Court heard it only stopped when he was arrested by armed police at Ms Hewitt's work but not before he set fire to her mother's home.
The former City worker has now been convicted of nine charges including harassment, arson being reckless as to whether life is endangered, attempted arson, theft and trying to pervert the course of justice.
So severe was the danger posed by Dhalla that police have said they believe they could have saved up to three lives by apprehending him.
Dhalla met Ms Hewitt, from Brighton, in 2009 and was introduced to his girlfriend's mother Pamela Hewitt and her partner David Gray the following year.
Ignored love letters
He told them he was 35 years old, an orphan and said he had been in the UK for many years - all of which were untrue.
When the four went on holiday together in October 2010, Dhalla became "very agitated and threatening" when asked about his past.
In December of that year Ms Hewitt ended their relationship.
Angered at what he believed was interference in their relationship by her relatives, he sent malicious letters and emails to Ms Hewitt's employers and targeted her family and their neighbours.
He visited Ms Hewitt in March 2011 after trying to rekindle their relationship with a series of love letters, which she ignored.
Police arrested and bailed him after he got into his ex-girlfriend's car and took her mobile phone.
In April, Pamela Hewitt and Mr Gray went on holiday to Lundy Island, off the Devon coast.
On the same day Dhalla bought an air rifle, and the following day purchased an air pistol and two mini crossbows.
He also bought a van which he adapted to allow access to the rear area from the driver's seat. Police later said it could have been used for a kidnap attempt.
Dhalla was arrested once again after firing the weapons in a field in Chippenham, Wiltshire, on his way to Devon and released on bail.
His weapons were confiscated and he was later fined £500 for trespassing with an air weapon. He was also fined £100 and given eight points on his licence for driving without a licence and insurance.
Arson attack
But his campaign against his former partner continued. Three days later, he hired a car which was seen near Pamela Hewitt's home in Aston Abbots, Buckinghamshire.
It was seen being driven off just after midnight. Half an hour later, the thatched house was discovered alight.
The holidaying couple were contacted by police and airlifted off Lundy Island.
Dhalla claimed he had left before the fire and had been sleeping in his car some distance away when it started.
Later that day staff at the Princess Royal Hospital in Haywards Heath saw Dhalla dressed as a doctor and asking about Ms Hewitt.
"I borrowed just a couple of props that I needed to gather intelligence and left," Dhalla said.
He drove back to Buckinghamshire where Mrs Hewitt's house was surrounded by police. He then drove to the local police station and tried to set it alight.
The next morning Dhalla returned to the hospital where Ms Hewitt was working. He was arrested by armed police officers.
In his hired car police found a loaded cross bow, a large knife, a claw hammer, pliers and bolt cutters, as well as a doctor's outfit.
Det Ch Insp Rebecca Mears, from Thames Valley Police, said: "He [Dhalla] is a loner. He is an exceptionally dangerous man, particularly with anyone who rejects him or gets in his way of him achieving what he wants to achieve.
"Our fear was that his intent was to kidnap and possibly murder Alison, and possibly her parents as well.
"Ultimately we think we've prevented up to three murders."