Brighton West Pier drawings revealed by hopeful developer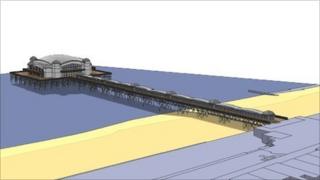 A Sussex developer who wants to fund the rebuilding of Brighton's West Pier has revealed artist's impressions of what it would look like.
The pier, which was shut to the public in 1975 because it was deemed unsafe, burnt down in 2003.
Mike Holland wants to restore the pier by 2016 for the 150th anniversary of its opening.
The pier's owners, the West Pier Trust, said they were committed to delivering the i360 project first.
Mr Holland has said he would like to redevelop the structure in a similar way to how Weston-super-Mare's pier was restored in 2010.
The 23 computer-generated images, described as "sketch proposals", show a raised walkway connecting to a pavilion building that has a three-tier structure.
Mr Holland said the architects who redeveloped the Weston-super-Mare pier said the cost of restoration would be about £25m.
He said he would supply the money, along with other local businessmen, and apply for heritage funding.
Rachel Clark, the chief executive of the West Pier Trust, said she would be interested to see the figures as she thought it unlikely a new pier could be created out of the remains of the old pier for £25m.
Construction of the i360 viewing platform has been delayed, but the trust hopes to look at the West Pier project once it is completed.