Hospital gel 'stolen for alcohol content' in Sussex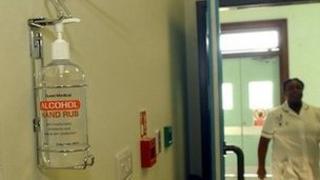 Hand gel dispensers have been removed from parts of a Sussex hospital over fears people have been stealing them for their alcoholic content.
Staff at St Richards in Chichester acted after noticing dispensers had gone missing from hospital corridors.
Sheila Loveridge, a nurse consultant for infection control at Western Sussex Hospital NHS Trust, said drinking the gel posed a serious risk to health.
She said: "It would do your system no good whatsoever."
'Gaudy posters'
Anti-bacterial hand gel was introduced to hospitals to stop the spread of infection.
Ms Loveridge said the dispensers would be retained on wards but removed from corridors.
Visitors would be encouraged to wash their hands with soap and water before entering the wards, she said.
Hugh Pennington, the professor of bacteriology at the University of Aberdeen, said removing the dispensers from some parts of the hospital would not increase the risk of infection.
He said they were "a kind of public relations exercise to remind people about infection".
"You can do that with gaudy posters that are not going to make anybody drunk," he said.