Sussex windfarm plan welcomed by Lewes MP Norman Baker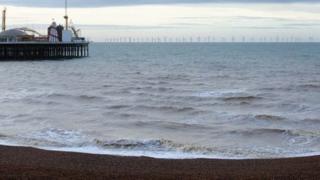 Plans to build a windfarm off the East Sussex coast have been welcomed by a local MP.
Norman Baker, the Liberal Democrat MP for Lewes, said the Rampion offshore windfarm was "good news" for the economy.
Energy firm E.ON has opened a formal consultation into the plans.
It said the windfarm could see up to 195 turbines built and would create enough renewable electricity to power about 450,000 homes.
Mr Baker said: "It's very good news for Sussex in terms of jobs generally. It's good news for the environment in terms of reducing carbon.
"And it's good news in terms of energy security by reducing our dependency on sometimes less than secure regimes quite a long way away with long pipelines."
E.ON has organised a series of public meetings for residents to find out more about the project. The consultation period runs until 6 May.
Dates and locations for the public meetings can be found on the E.ON website.