Acid attack model Katie Piper gets sight back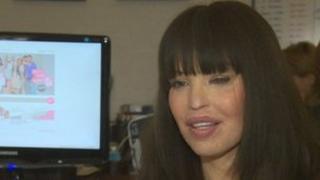 A model who was left blind in one eye after acid was thrown in her face has told of her joy after having her sight restored using stem cell treatment.
Katie Piper, of Andover, Hampshire, suffered third degree burns when a former boyfriend arranged for acid to be thrown in her face.
She lost sight in one eye but doctors at the Queen Victoria Hospital, in East Grinstead, restored it.
She said prior to her operation her sight was like "being underwater".
Ms Piper, 28, has had nearly 100 operations to treat damage done to her face in the attack in 2008.
But doctors held out little hope of her sight being restored after the acid burned into her cornea and left a scar across it.
However, experts took tissue from an anonymous donor, grew it and then stitched it into her damaged eye.
'Scared and vulnerable'
She said: ''I can see silhouettes, I can judge depth, I can see movement, I can see shapes - if someone holds their hand up I can see how many fingers they are holding up.
''I would say the most significant thing about restoring my sight is I can be more independent if I have operations on my good eye.''
A Channel 4 documentary team followed Ms Piper as she underwent the surgery.
She said: ''Of all my injuries, it's the damage to my left eye that has the most impact.
"The hardest part is not being able to see anything on one side. In crowded places it leaves me feeling scared and vulnerable."
Eye specialist Sheraz Daya, who treated Ms Piper, said: "We had these cells manufactured by the eye bank in East Grinstead and we transplanted them on to Katie's eye.
"The fascinating thing about all this is while we're taking tissue from somebody who died, in the long term what we have found is that there's no DNA from that individual.
"So we expect, in Katie's case, all the cells that we've transplanted to be dissolved and for them to be replaced by Katie's tissue."
Ms Piper has set up her own foundation aimed at making it easier to live with burns and scars.