Sussex windfarm consultation begins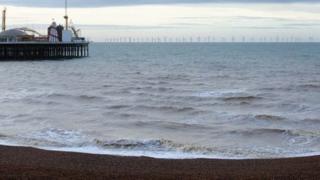 Plans to build a windfarm off the East Sussex coast have been put forward for formal consultation.
Energy company E.ON has unveiled plans to build up to 195 turbines between 13km (8-miles) and 25km (15-miles) out to sea.
E.ON won the licence, which is one of nine sites around the UK earmarked for offshore wind farms, in January 2010.
It said the Rampion windfarm would create enough renewable electricity to power about 450,000 homes.
E.ON has organised a series of public meetings for residents to find out more about the project. The consultation period runs until 6 May.
Chris Tomlinson, the project's development manager, said he had been encouraged by the response so far.
Dates and locations for the public meetings can be found on the E.ON website.