East and West Sussex fire service merger put on hold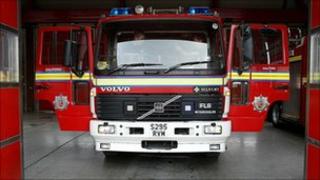 The merger of fire and rescue services in East and West Sussex has been put on hold and will not go ahead next year.
East Sussex Fire Authority and West Sussex County Council said government proposals to change the system of grant funding was behind their decision.
However, they said a merger was still the way forward if government funding and financial issues could be resolved.
Both authorities said work on creating a new joint control room was still going ahead.
Discussions on creating a new fire authority, which would also cover Brighton and Hove, began in 2010.
It was hoped the combined authority would save millions of pounds and protect frontline services.
'Cost unclear'
But in a statement, the authorities said the decision not to proceed with a merger was linked to the uncertainties proposed changes to grant funding for all local authorities would cause on the financial planning for a newly merged fire service.
Councillor Pete Bradbury, of West Sussex County Council, which runs fire services in West Sussex, said they needed to be clear how much the proposed merger would cost.
"Until the position on a full merger becomes clear, we will consider all other ways to achieve the financial and operational benefits of collaboration short of a merger, whilst minimising the impact on services to the public," he said.
Mr Bradbury said he did not expect any reduction in frontline services and any job losses would be able to be made through voluntary redundancy and natural wastage.
"We're in the situation where we can't do a formal merger, we therefore have to look at which aspect of our businesses we can work collaboratively on," he said.
'Backroom cuts'
Councillor John Livings, chairman of East Sussex Fire Authority, said it was unfortunate the funding changes were planned to take effect on 1 April 2013 - the same day as the proposed merger.
He said a merged service was subject to having the "necessary financial information available to enable the business case to be completed" in order to ensure there was no unnecessary increase in costs to taxpayers.
Matt Dale, of the Fire Brigades Union, said any merger would be to cut costs and would inevitably lead to job losses.
"But we've had assurances that until the merger happens there won't be job losses," he said.
He said job losses would mostly fall on backroom support staff but he could see future station closures where services were duplicated just across the border between East and West Sussex.