Developer Mike Holland in Brighton West Pier rebuild plan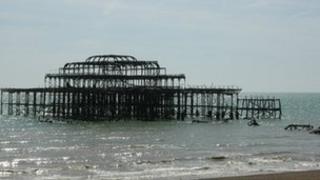 A Sussex developer says he wants to fund the rebuilding of Brighton's West Pier.
Mike Holland wants to restore the pier, which burnt down in 2003, by 2016, in time for the 150th anniversary of its opening.
Mr Holland said he wishes to redevelop the pier in a similar way to Weston Super Mare's restored pier.
Owner, the West Pier Trust, said its current focus was the i360 tower development.
The pier had been shut to the public since 1975 because it was regarded as unsafe.
'Let's crack on'
"Leaving it as it is is not an option," said Mr Holland. "2016 will be the 150th anniversary of when it was built and I would like to see it rebuilt before then.
"I've stood back for a long time waiting for someone to come up to the plate. Nobody has, let's crack on with it."
He said he has contacted the architects who redeveloped the pier in Weston Super Mare, which reopened in 2010, who have said the cost of restoration would be about £25m.
He said he would supply the money along with other local businessmen and apply for heritage funding.
Rachel Clark, the Chief Executive of the West Pier Trust, said: "I would be very interested to look at his figures.
"I would say it's unlikely to create a new pier out of what remains of the west pier for that little money [£25m].
"We are completely committed to delivering the the i360 first.
"Once we have the i360 we think it's very likely we'll also be able to get the new west pier but the financial equations are very tricky with piers.
The i360 is a 600ft (183m) viewing platform planned for Brighton seafront. Its construction has been delayed.
Ms Clark said: "It's a shame it's taking longer that we hoped to deliver that's due to the very tough economic conditions we've had since 2008."