Vigil for Brighton attack victim Jay Abatan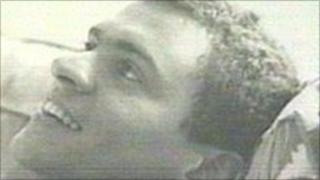 A vigil for a man killed outside a Brighton nightclub is taking place 13 years after his death.
Jay Abatan, 42, from Eastbourne, was assaulted in January 1999 outside the Ocean Rooms nightclub.
After an inquest, a coroner recorded that he was unlawfully killed. No-one has been convicted over the attack.
Michael Abatan is holding a vigil outside Brighton police station calling for justice after his brother was killed.
The 42-year-old, who was an accountant with two young children, was punched twice in the face in an unprovoked attack as he waited for a taxi with his brother on 24 January 1999.
'Unanswered facts'
He fractured his skull on the pavement and died in hospital five days later.
Two men were arrested by Sussex Police within 24 hours of the attack but manslaughter charges were later dropped due to a lack of evidence.
They were instead charged with affray and causing actual bodily harm to Michael Abatan, but were later acquitted.
One of the men killed himself in 2003.
The family of Mr Abatan, who was mixed race, believe the attack against him was racially motivated.
They have always maintained there were significant failings with the police investigation. Two detective inspectors who investigated the incident were disciplined in 2005.
Mr Abatan said: "People will ask why I am still here asking for justice for my brother after 13 years.
"There are facts that still remain unanswered regarding the police re-investigation into my brother's death.
"The inquest that took place in October 2010 showed me there is still new evidence out there not gathered by the police."
He added: "Stephen Lawrence's family have been through an uphill struggle and it has given me faith that even after 18 years some justice is possible, but the police must pursue all avenues of inquiry without fear or favour."
Following complaints from Mr Abatan's family that the police investigation was not thorough enough, a critical review of the inquiry by Essex Police led to the original team of detectives being replaced.
A second review carried out by Avon and Somerset Constabulary, in which several officers were questioned, then found there had been failings.
The BBC contacted Sussex Police on Sunday but no-one was available for comment.