Giant Sheffield Park tree struck by lightning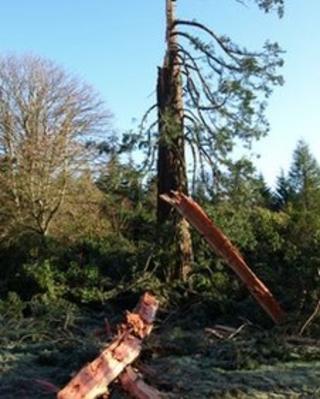 A 125-year-old giant redwood tree at a park in East Sussex has been struck by lightning, causing it to explode.
No-one was injured in Sheffield Park, near Uckfield, during the freak storm earlier this week.
Gardeners said the lightning "literally caused it to explode, the main branches that formed the crown blew off, the trunk shattered and splintered".
Head gardener Andy Jesson said the clear-up operation was being delayed to allow the public to view it.
'Crack of thunder'
The area around the tree, which was the second tallest in the garden at about 86ft (26 metres), has been fenced off.
Mr Jesson said: "There was a massive bolt of lightning, a really tremendous crack of thunder followed it.
"And the following morning one of the team came across the tree, and I've never seen anything like it. I've been working with trees for 33 years.
"This had just literally exploded."