Prosperity and homelessness: Chichester's tale of two 'cities'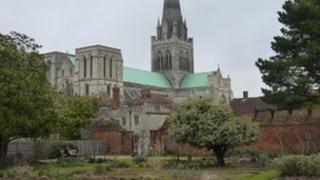 The prosperous shopping streets of Chichester in West Sussex cluster around its 900-year-old cathedral inside ancient city walls.
But there is another "city" nearby where homeless people unable to find hostel places live in tents.
Three of its residents have died in two months after being hit by cars on the busy A27 dual carriageway.
The deaths of the homeless men, all clients of the charity Stonepillow, have sparked shock and sadness in the city.
The latest casualty was Lithuanian national Sigitas Jagminas, 61, who died on 20 January after visiting Stonepillow.
He was heading to the "tent city", hidden in woodland on the Chichester side of the road.
'Not enough'
Another Lithuanian, Sigitas Juozapaitis, 54, and Kenneth Sherwood, 39, from Fernhurst, died in separate incidents last month while crossing the A27 to get to St Joseph's hostel in Hunston Road.
St Joseph's, run by Stonepillow, has emergency beds for 10 men and two women every night.
"Stonepillow are absolutely excellent and they do have the support of the majority of local people, but it's just not enough," said Chichester District Councillor Anne Scicluna.
"It's dreadful. Absolutely awful."
Ms Scicluna said the deaths were not just tragedies for those killed and their families but also for the drivers involved.
"They are going to have that on their conscience for the rest of their lives. It is very, very sad," she said.
Ms Scicluna, a Lib Dem on the Conservative-run council, said she believed the authority was doing all it could to support those helping the rough sleepers.
"We support them with finance if we can but it is a drop in the ocean," she said.
The tented community, which fluctuates in size, is about half a mile back from the A27.
The proprietor of a lay-by burger van, who wanted to be identified only as "Michael", told BBC Sussex the rough sleepers visited him regularly for cups of tea.
"We see them walk up and down this road nearly every day with bags in their hands, and rucksacks," said another man who works nearby.
"They go into the bracken. It's obvious they have got a big camp there. They have been there a couple of years."
Seasonal work
Migrant workers are attracted to West Sussex by casual work in the horticulture industry which produces and packs salads and vegetables.
"It is very seasonal and temporary work," said Ben Rogaly, senior lecturer in human geography at the University of Sussex.
"Employers want people who are willing to work awkward shifts and they haven't been able to find them among settled workers.
"Many eastern European workers in horticulture in England come with enough money to get a job but if they have no work for 10 days or two weeks they run very low and do not have enough to get home."
Stonepillow said it was shocked by the third client death on the A27 and that it had been campaigning since December for improved safety measures for pedestrians.
There are two footbridges and an underpass but the charity wants better lighting and warning signs.
Sussex Police has increased the number of night-time speed checks in the area and talked to the homeless people about crossing the A27 safely.
"The police are being supportive and trying their best to help, but despite a petition including 300 signed supporters, the Highways Agency have so far declined to respond to our appeal," it said in a statement.
The Highways Agency expressed its sympathy to the families and friends of those involved in the three crashes.
"The latest incident was near to the Stockbridge roundabout, in an area where there are crossing facilities," it said in a statement.
"We have drawn up plans for a footbridge over the A27 near Whyke roundabout and we would be looking to bid for any available funds in the next financial year.
"We continue to work closely with the police and West Sussex County Council to see if any further measures can be taken in the short term to improve safety."