Brighton councillors consider station improvement ideas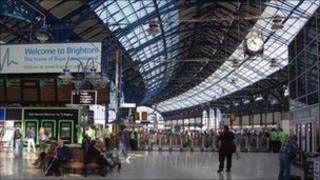 Councillors in Brighton and Hove are to consider the comments of 1,200 people who expressed their views on improving the area around Brighton station.
More than 75% said they walked to the station and criticised the poor quality of the pedestrian facilities.
Many people told a public consultation the current environment in Terminus Road felt unpleasant and unsafe.
Councillors have already conceded that the station "does not work well as a fitting welcome to the city".
Cycle parking
Councillor Ian Dave, cabinet member for transport and the public realm, said: "There are a large number of people coming to and leaving the station on foot and we are looking to make it easier and more pleasant for them, as well as reducing congestion which will not only improve access but reduce air pollution."
Southern Rail is also currently investigating an 800-space cycle parking facility as part of the improvements.
It is expected that a number of new designs for the station will be drawn up over the next few months.
Public views will be taken into account in the selection of a preferred design to be displayed at a further consultation event in the summer.
Work is expected to start on the site in 2013 and will complement improvements being carried out by Southern Rail inside the station.