Ford prison officers retreated to safety as riot spread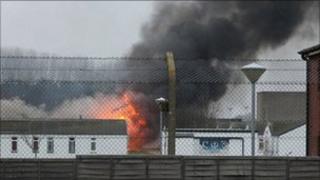 A prison officer has told how he and his colleagues decided to retreat to safety as a riot broke out at Ford Prison in West Sussex.
Colin Usher, the officer in charge of the open prison in Arundel, said he felt "very vulnerable" as inmates wearing masks threatened him and staff.
Hove Crown Court heard the officers went to the safety of the gate house as rioters smashed windows and lit fires.
Seven men deny a charge of prison mutiny at the jail on 1 January 2011.
They are Lee Roberts, 41, Thomas Regan, 23, Ryan Martin, 25, Lennie Franklin, 23, Roche Allen, 25, Paul Hadcroft, 25, and Carniel Francis, 25.
Brandy bottles
Six of the men have also pleaded not guilty to a charge of violent disorder, except Mr Regan, who has pleaded guilty to the charge.
Mr Roberts, Mr Regan, Mr Martin, Mr Franklin, Mr Allen, and Mr Hadcroft also deny a further charge of arson, being reckless as to whether life was endangered.
Mr Roberts has pleaded guilty to a charge of arson.
Mr Usher said he had been patrolling with assistant prison officer David Evans on 31 December when they had heard loud music coming from one of the billets.
Inside were three men, not the defendants, and two empty brandy bottles, the court was told.
The men denied they had been drinking but provided positive breath tests and were told they would be reported to the governor, Mr Usher said.
He said just before midnight, he and the four other staff on duty had positioned themselves on the cricket pitch between A wing and B wing to deter inmates from crossing from one wing to the other.
'Making gestures'
He said Mr Roberts had approached him and said loudly that inmates had been allowed to meet up on the cricket pitch in past years to wish each other a happy new year.
Just after midnight, Mr Usher became aware of fire alarms going off and a lot of noise.
He said about 30 to 40 offenders had emerged from the back of one of the billets but he could not see their faces as it was very dark and they had all worn masks and makeshift balaclavas.
"They appeared to be aggressive in the way that they stood, making gestures and shouting," he said.
"Some of the offenders, from what I could see, had some form of weapon or weapons in their hands.
"I felt the safety of my staff was at risk and that our position was compromised."
Louisa Bagley, defending Mr Roberts, said he had not attempted to disguise himself when he had spoken to Mr Usher before midnight and had not had anything in his hands.
The trouble lasted 12 hours before the authorities regained control of the prison, Hove Crown Court has heard.
The trial continues.