Sussex Police: Ten arrested over Hailsham fight death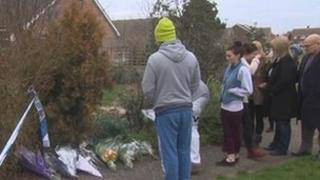 Ten people are being held after a young father was fatally injured in what police believe was a pre-planned fight in an East Sussex town.
Darren Croxton, 25, was injured in Bramble Drive, Hailsham, at 16:30 GMT on Sunday.
He was taken to the Royal Sussex County Hospital but died on Monday morning.
Seven people are being held on suspicion of murder and three on suspicion of violent disorder. They are aged between 13 and 26.
A force spokeswoman said the victim had been found collapsed in the road with serious injuries.
'Prime of life'
A post-mortem examination is due to take place on Monday evening.
Police said the people involved were known to each other and there was no further risk to the public.
Det Ch Insp Jeff Riley said: "This is a tragic incident and made all the more sad by the fact that the deceased was in the prime of his life and leaves behind a young child who will now grow up without her father."
Eyewitness Cathy Parsons said: "I could see a group of lads in the woods and I knew that something was not quite right.
"I came back into the house and within about five or 10 minutes the helicopters were out. I then came back out and saw a young lad lying there."