Speed checks follow A27 pedestrian death in Chichester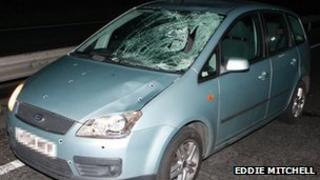 Police have increased night-time speed checks following the death of a third male pedestrian on a stretch of the A27 in West Sussex.
A 61-year-old man was killed when he was hit by a car between the Stockbridge and Whyke roundabouts in Chichester at 17:35 GMT on Friday.
The 42-year-old woman from Bognor who was driving the Ford Focus was unhurt.
Two homeless men died at the same spot while attempting to cross the A27 to get to St Joseph's hostel in December.
'Prevent further deaths'
Sgt Melanie Doyle, of Sussex Police, said: "This is sadly the third road death on the A27 since Friday 2 December, 2011.
"Following the first two fatal collisions Sussex Police officers visited the area and provided people who are living near to the road with high visibility jackets.
"We would encourage anyone walking in the area at night to wear these jackets to help prevent another tragedy."
She added: "Officers have been in the area talking to local residents and giving advice on how to keep safe while walking near to roads at night.
"Police have also been monitoring the road during the hours of darkness to ensure that drivers are complying with the speed limit.
"We have also been talking to the district council and the Highways Agency to see if there are any measures that can be put in place to prevent any further tragic deaths."
'Homeless encampment'
Sigitas Juozapaitis, 54, was the first man to die crossing the Chichester bypass on 2 December. Three days later, Kenneth Sherwood, 39, was fatally injured on the same road.
St Joseph's hostel, in Hunston Road, is run by the charity Stonepillow, which also runs a day centre in Chichester town centre.
The charity has begun a petition to support a campaign to get better lighting and warning signs on the A27.
Sussex Police have said homeless people using an "overspill" encampment of tents on the other side of the A27 frequently put themselves at risk on crossing the hazardous dual carriageway.