Third pedestrian dies in A27 crash at Chichester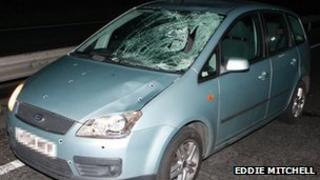 A third male pedestrian has died after being hit by a car on a stretch of the A27 in West Sussex.
The latest accident between the Stockbridge and Whyke roundabouts at Chichester took place at 17:35 GMT on Friday, Sussex Police said.
Two homeless men who died at the same spot in December were crossing the A27 to get to St Joseph's hostel.
The charity which runs the hostel said it was unable to comment on the latest accident.
The man, who has not been identified, died at the scene after being hit by a car driven by a local woman.
Police said officers were trying to identify him and contact his family. They appealed for witnesses to come forward.
Better lighting
Sigitas Juozapaitis, 54, was the first man to die crossing the Chichester bypass, on 2 December. Three days later, Kenneth Sherwood, 39, was fatally injured on the same road.
St Joseph's hostel, in Hunston Road, is run by the charity Stonepillow, which also runs a day centre in Chichester town centre.
The charity has begun a petition to support a campaign to get better lighting and warning signs on the A27.
Sussex Police have said homeless people using an "overspill" encampment of tents on the other side of the A27 frequently put themselves at risk on crossing the hazardous dual carriageway.
High-visibility jackets were handed out to homeless people in the area following the first two accidents, so they could be seen more clearly by motorists.
Local businesses in Chichester joined forces to provide the jackets and police appealed to drivers to be alert on that section of road.