Glyndebourne wind turbine divides opinion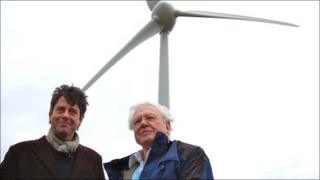 It is a wind turbine which has had environmental campaigners in a spin.
Towering 67m (220ft) above the South Downs, the turbine at Glyndebourne Opera House, has been officially launched five years after the project was first publicly mooted.
The idea - to provide the East Sussex opera house with an almost total supply of renewable energy - was billed as an environmental step forward in the arts.
But many disagreed, arguing the turbine would be a blot on the South Downs' landscape.
The Campaign for National Parks swung behind the protests, as did the South Downs Society.
However, planning permission was granted by Lewes District Council in 2008 and construction was completed in November last year.
And veteran broadcaster Sir David Attenborough, a life-long lover of the opera, has given his influential support to the project.
"It's great to be involved with something that's working with nature," said Sir David, who has been visiting Glyndebourne since the 1950s and spoke in support of the project at a public inquiry in 2008.
"I've been told 150 years ago they put up a windmill here and I wonder what the people said then? Did they say it was a blot on the landscape?
"Respect for history is fine, but we also have to have respect for the future.
"It's beautiful, the noise is like a gust of wind, not machinery."
'Divided people'
But others argue the turbine has been detrimental to the landscape and might have set a dangerous precedent.
Ruth Chambers, deputy chief executive of the Campaign for National Parks, said she was against the project, not because it was a wind turbine, but its location and size.
"Our views haven't changed," she said. "One of the difficulties is that it has divided rather than united people on renewable energy and that's regrettable.
"The turbines absolutely have to be built somewhere but not on one of our most attractive landscapes."
Glyndebourne founders, John Christie and opera singer wife Audrey Mildmay, opened the first festival in 1934.
Over subsequent years its ownership stayed in the family and the executive chairman is their grandson Gus Christie.
He said it was his aspiration that 90% of the electricity needed to power Glyndebourne's operas would be renewable.
"We're very proud to be the first arts organisation in this country to develop our own power with a wind turbine," he said.
"I'm grateful that this beautifully-engineered object can provide for our energy needs."
Early figures from Glyndebourne show the turbine is on track to do just that.
During its first full month of operation in December, the turbine produced almost double the amount of energy used in the same period in 2010.
But only time will tell whether the turbine will eventually become part of the landscape, however, Sir David thinks it will.
He said: "What did people say about pylons that brought electricity across the country? Do we want electricity or don't we?"