HMP Ford rioters 'took over prison'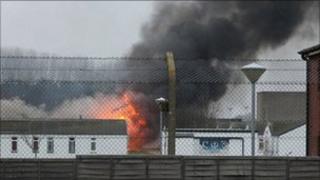 Masked and armed inmates took control of an open prison in West Sussex within half an hour of turning on staff, causing £5m damage, a court has heard.
The HMP Ford riot saw inmates looting, smashing and torching buildings and property, Hove Crown Court was told.
Seven men deny a charge of prison mutiny on 1 January 2011.
They are Lee Roberts, 41, Thomas Regan, 23, Ryan Martin, 25, Lennie Franklin, 23, Roche Allen, 25, Paul Hadcroft, 25, and Carniel Francis, 25.
Mr Roberts, Mr Martin, Mr Franklin, Mr Allen, Mr Hadcroft and Mr Francis have also pleaded not guilty to a charge of violent disorder.
Mr Roberts, Mr Regan, Mr Martin, Mr Franklin, Mr Allen and Mr Hadcroft deny a further charge of arson, being reckless as to whether life was endangered.
Mr Regan has pleaded guilty to violent disorder and Mr Roberts has pleaded guilty to an offence of arson in the association block, the court was told.
Breath testing
The authorities regained control of the prison 12 hours after the riot began.
Prosecutor Ian Acheson said resentment had grown among inmates over alcohol breath testing in the run-up to New Year's Eve in December 2010.
He said tension then erupted, with the five staff in charge making themselves a visible presence as midnight approached.
Fire alarms were set off in A and B wings and shouting was heard coming from an area of B wing which was often linked with trouble and referred to as Beirut.
Mr Acheson said one of the defendants, believed to be Mr Roberts, stepped forward and said: "There are 550 of us. There are five of you. We run the prison, what are you going to do?"
About 30 prisoners started to advance towards the staff, making threats, shouting and making "monkey" noises.
"One inmate had a pole and smashed the windows of the post room," said Mr Acheson.
The staff quickly realised they would have to withdraw to ensure their safety and retreated to the gate house, leaving the prisoners unsupervised.
The jury heard the arson continued into the next day.
Fire crews arrived at about 02:00 GMT but were not allowed into the prison until trained riot officers deemed it safe.
HMP Ford is an open prison that accepts category D offenders who have less than two years of their sentences left to serve.
The prison holds about 500 inmates and in the early stages of the disturbance, two officers and four support staff were on duty.
The court adjourned on Thursday afternoon for the jury to pay a visit to the prison.