Tributes to Kent comedian and pantomime star Dave Lee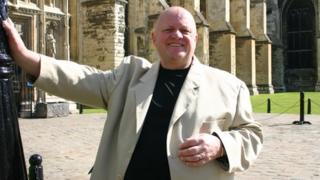 A Kent theatre has described comedian and pantomime star Dave Lee, who died on Monday, as "absolutely wonderful".
Lee, 64, starred in more than 1,000 pantomime performances over 16 years at the Marlowe Theatre in Canterbury.
Dave Lee's Happy Holidays, which sends ill and disabled children and their families from Kent on holidays, has raised more than £2m.
The star died of pancreatic cancer two weeks before he was due to be given the freedom of the city of Canterbury.
'Kent's best mate'
Lee was born in Broadstairs and began his showbiz career at the age of 13 as a drummer at Chartham Secondary Modern School.
Describing his arrival in the world, he said: "I arrived at a tender young age, weighing more than the ambulance and midwife put together."
He began his television career as a warm-up man for Michael Parkinson, Michael Aspel and Jimmy Tarbuck.
Lee appeared in shows including The Generation Game, Celebrity Squares, Live from the Palladium, and hosted his own golfing series.
He was a non-executive director of Gillingham Football Club and a member of the Grand Order of the Water Rats.
Comedian Richard Digance said: "Losing a friend is hard, but losing your best friend is heartbreaking for me.
"Dave and I go back to Hackney Empire about 33 years ago when we were supporting Chas and Dave.
"His smile could light up the dingiest dressing room. He was the nicest bloke in the world."
A charity gala night, organised at the Tower Theatre in Folkestone on Sunday 29 January by Kent Police, will still go ahead, with performances by Digance, Alvin Stardust and Victoria Yellop.
Lee had been due to attend the event, which will raise money for good causes, including his Happy Holidays charity.
Organiser Andy Orfila said: "I'm hoping the gala night will be a fitting tribute to this legendary gentleman who brought joy to everyone he met."
Marlowe pantomime producer Paul Hendy said: "Everybody knows Dave Lee - he was Kent's best mate and everyone has a story to tell about him.
"We always billed him as a 'legend' and as far as the local community was concerned, this was true.
"Dave was the life and soul of the party and always had a gag to tell. He will be missed."
BBC Radio Kent's Pat Marsh also paid tribute to Lee.
He said: "Dave was an incredible comedian but also a wonderful ambassador for the county of Kent and he will be remembered with a smile."