Racing commentator Jason Hall regrets 'hot body' tweet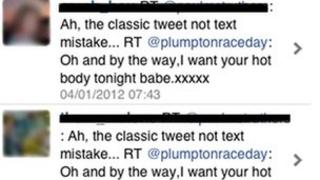 A commentator says he will think twice before tweeting in future after a message intended for his partner was accidentally posted on a race day page.
Jason Hall mistakenly tweeted: "I want your hot body tonight babe" on the race day page of Plumpton Racecourse while working at the East Sussex venue.
"It was very unfortunate," he said. "I was intending to send the message to my partner Nicky.
"But I pressed the wrong button and it went out across the nation."
Mr Hall, who also writes for the Sussex Express, was tweeting on behalf of Channel 4 racing expert Simon Holt on Tuesday.
He said he was "astonished" how quickly word of his error on the social networking site had spread.
"Within 24 hours I was contacted by a number of journalists and then it reached the national broadsheets and tabloids.
'Extremely funny'
"It was just one of those things but it seemed to make a lot of people at Plumpton Racecourse and across the country very happy.
"My wife thought it was extremely funny."
Mark Shaw, who advises businesses on how to use Twitter, said Mr Hall was not the first to tweet in error.
American actor Charlie Sheen had tweeted his phone number to five million followers, for example.
"The key thing is how to recover from it," said Mr Shaw.
"People on Twitter are very quick to re-tweet and start sending the message round.
"The worst thing you can do is deny it or pretend it never happened. You have to accept it and admit you made a mistake."
A spokeswoman for the racecourse said it apologised to anyone who may have been offended by the tweet and had taken steps to ensure that any inappropriate tweeting would not happen again.
"The reaction from customers is that it has caused great amusement and we have seen an increase in the number of followers in both our @plumptonraces and @plumptonraceday Twitter feeds," she added.