Sussex's Seven Sisters cliffs to have new steps built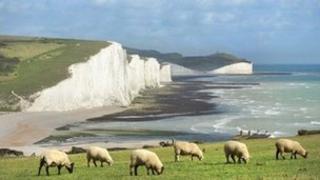 Steps leading down to the beaches around the Seven Sisters cliffs will be relocated because of coastal erosion.
Planning permission has been granted to allow Wealden District Council to build the new steps in the Birling Gap.
The Seven Sisters cliffs, from Seaford to Beachy Head, are a Site of Special Scientific Interest (SSSI) and part of the South Downs National Park.
The new staircase will be built 3m (9.8ft) inland from its current position.
Johanna Howell, who is the cabinet member for community and the voluntary sector at the council, said: "The staircase, which provides the only access down to one of the most photographed locations in England, becomes more vulnerable as the cliff behind it is continually eroded.
"The staircase is designed to be periodically moved back to the cliff side as the rock face is washed away by the sea.
"With another season of winter storms on its way, we felt it was best to be prepared so that any necessary re-siting can be carried out as quickly as possible."
The staircase was last moved in 2002.